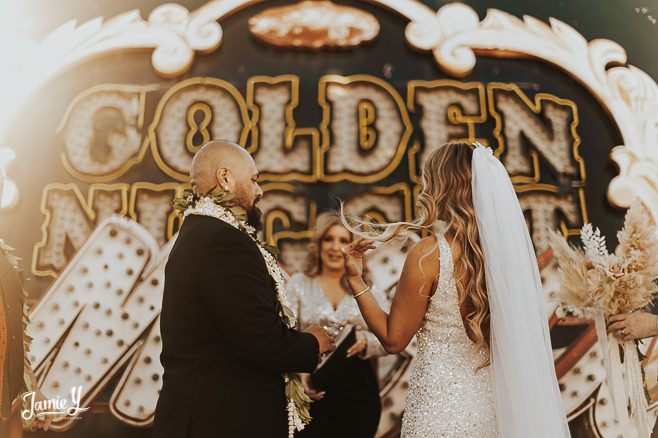 Check out this amazing Micro Wedding At The Neon Museum in Las Vegas.
This intimate ceremony held at the iconic Neon Light museum in Vegas was planned and coordinated by Elopement Las Vegas.
Beth & Kila were surrounded by some of their closest friends and family.  Instead of the more popular Lady Luck sign, the ceremony took place in front of the Golden Nugget sign.  Since the lighting was so much better over here, the photos came out amazing and neither the bride or groom had to deal with the sun shining in their eyes.  Don't be afraid to change things up sometimes for better results in the end.
After the ceremony, performed by my favorite officiant Angie, they had their first dance in front of everyone.  Then headed over to the cake and champagne set up for their first glass as husband and wife.  Next I headed down to freemont with just the couple and I for some more portraits and a little bit fancier champagne.  A bottle of Dom that lights up!
Lastly, we headed to their home for their backyard reception.  It was decorated so great with lots of neon signs and beautiful decor.  They even had some fried spam sticks that I was definitely interested in trying.
Kila has an infectious smile and Beth is quite the beauty.  Such a sweet amazing couple and I am so glad I had the chance to take part in this day with them.
To see even more from this gorgeous Micro Wedding At The Neon Museum, check out the slideshow below.
Vendors:
Planning/Coordination: Elopement Las Vegas
Officiant: Peachy Keen Unions
Venue: Neon Museum
Floral: Amy Wong Events
XO-Jamie