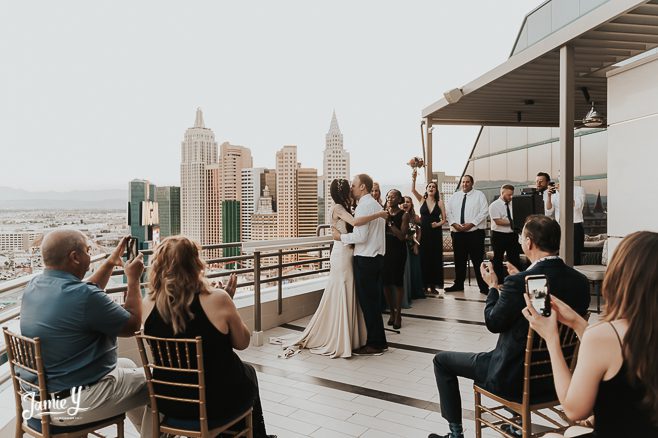 So excited to share this MGM Terrace Micro Wedding with everyone. Marika & Dylan had originally planned to get married in Las Vegas earlier in the year, but due to the current situation, they rescheduled. Thankfully the wedding was able to take place with their closest friends and family.
Their Story
"We met four years ago (July 8, 206 to be exact). I was with a friend who's aunt was bar-tending at Kluck's (Dylan's family owned bar), and she was telling me about this guy who she thought was so attractive that was bar-tending as well, so we had to go. We get there and Dylan comes over to serve us and I remember he was really awkward at first and I looked at my friend and actually said "oh, you can have him." Lol, little did I know then.
Anyway, as the night progressed he got off work, but stayed sitting at the bar (something he never does, especially with how we were the only people in there besides a couple others) and he eventually came over and talked to us and we played music and danced and I realized I actually really liked him. I pulled my friend outside to tell her and when I came back in, Dylan asked "what's going on?" And I asked if I could talk to him outside. We go out to the deck and he said, "so what's up?" And my bold a** goes "I just really want to kiss you" and he said "so do it" haha, that's so corny but that's exactly how it happened.
We've been together since that day. It obviously wasn't love at first sight because of what I said to my friend, but it really did feel like a magnetic attraction. A little over a year later we moved in together. We bought our own house a year after that and we were set to move in right before New Years Eve. On Christmas Day (2018), we opened stockings and he was legit sitting on the couch and I was sitting on the floor next to him and I reached in mine and felt a ring box. I opened it and was like "holy sh*t, is this what I think it is?!" And he says word for word "Well are we getting hitched or what?". Somehow it was still perfect.
We planned to get married 5/10/20, but of course with Covid that didn't work out. It was devastating and it was hard feeling like I couldn't even be excited for our own wedding. We had to redo a lot of plans and change venues, and our guest list got cut in half because a lot of people cannot make it now. Shortly after we learned we had to postpone, we also learned one of our dogs had kidney disease and he passed away a couple months later. It's been a lot tougher than we ever expected, but I figured the worst already happened and since I've been way more relaxed about planning. I'm just so excited and feel incredibly lucky to still get married to my absolute best friend and doggo dad. I'll probably cry the whole time that it's actually, finally, happening."
The Wedding Day
We all started off with Marika getting ready in one of the rooms. There was a bit of a hiccup, when we were supposed to check into the terrace suite that afternoon for the wedding. Thankfully everything worked out and we managed to get into the suite just in time. Our portrait time was cut down, to literally about 7 minutes of shooting, but we got some portraits and made it back up to the room in time to help finalize everything. The ceremony took place just as the sun was setting with a gorgeous view of the strip behind us.
Marika & Dylan did a hand fasting ceremony, and you could just feel the love and happiness everyone had for the couple. Once the ceremony and photos were done, it was time to party in the room. Everyone had some food and drinks and then I left right before the partying began.
Marika was a gorgeous bride, looked just like a serious princess with her long beautiful hair and crown.
To see even more from this Vegas wedding, check out the slideshow below.
Vendors:
Ceremony & Reception Location: MGM Grand
Flowers & Chairs: Weddings By Dzign
Hair/Makeup: Mobile Beauty Team
Officiant: Amore At Last
XO-Jamie
MGM Terrace Micro Wedding