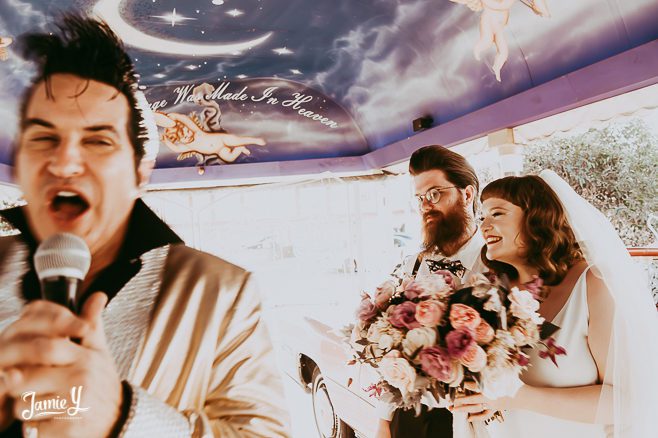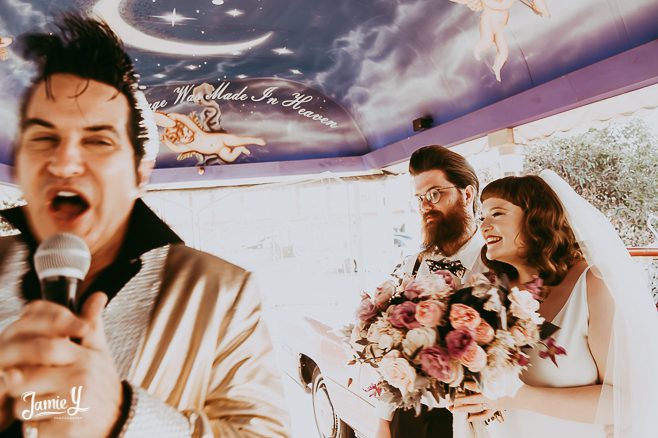 Check out this awesome Little White Chapel Wedding in Vegas. Elvis even officiated!
Madison & Ross live in Texas. Here is their story as told by the bride:
" My fiancé and I are looking to do something candid and scenic; a balance of urban, intimacy, and adventure. The ceremony will take place at The Little White Chapel , as it is on the bucket-list I created when I was 13 after watching and becoming entranced by the movie "What Happens in Vegas." There will not be a group of guests or anything. This gives us the opportunity to have a truly intimate ritual that celebrates our love without the obligations that conventional weddings face. Which is fitting because we are the embodiment of non-traditionalist millennials.
We met online through OK Cupid, (this was before the age of Tinder mind you), moved into together after a couple of months, was casually proposed to while falling asleep, and we're finally ready to get married more than three years later. So, relaxed and fun are exactly what we want.
Further, We have picked the summer solstice as the date of our marriage because we see it as making the longest day of the year one of the happiest and most glowing, and to honor the union of the sun and earth that brings fulfillment and connection. Plus, Aragorn weds Arwen in Minas Tirith on midsummer's day. "
It was a pretty amazing day and we managed to fit in a whole lot within one hour. They had one ceremony inside the chapel with a non Elvis officiant. Madison mentioned that they were supposed to have Elvis, so the chapel fixed the mistake and had a second ceremony outside in the tunnel of love with Elvis.
Elvis sang a few songs with the help of the newlyweds and gave them a second wedding ceremony. Afterwards we quickly went downtown to get a few more photos. Madison had already scoped out some spots online and knew exactly where she wanted to go. We took photos with the neon shoe, the El Cortez, and a few other Vegas signs.
Lastly, after the photos, the couple headed off to the Eiffel Tower restaurant where Madison had read about an amazing vegan beef wellington that they serve.
To see even more, check out the slideshow below.
Vendors:
Chapel: A little White Chapel
Hair & Makeup: Atomic Style Lounge
Flowers: City Blossoms
Dress: Everlane
XO-Jamie
A Little White Chapel Wedding
Contact me here to discuss your wedding photography.