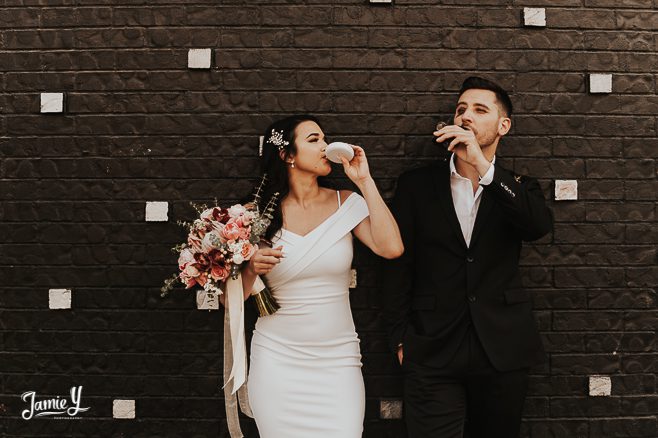 Today I am sharing the Las Vegas Micro Wedding of Nicolette & Tyler.  Nicolette had contacted me awhile back about photographing her wedding in Vegas.  It was going to be a full sized wedding later on in the year.  They had a trip planned to come check out venues.  She told me that they were probably going to actually elope and get married on their trip instead of just checking out locations.  So happy I was available and able to photograph these two.
We met up at the Little White Chapel for their ceremony inside the Tunnel of Love.  It was intimate and private and perfect for their micro wedding.  Before heading to the Neon Museum for their final part of the day, we went downtown for some more photos.  It is tricky to book the neon museum right after the chapel in case of any delays.  The Neon Museum is booked out back to back and if you are late you most likely will just be stuck with a shorter time to shoot there.  So I recommend adding in a buffer.
Nicolette and Tyler both had flasks and enjoyed themselves while we walked around.  Nicolette brought a second dress to change into at the neon museum.  We took some fun photos and finished the night at the Welcome To Las Vegas sign.
I had such a great time with these two and could listen to them talk all day.  They live in New Jersey close to my mom and sister and the accent always reminds me of home.
So thankful to get to meet all you amazing couples.
XO-Jamie
Las Vegas Micro Wedding