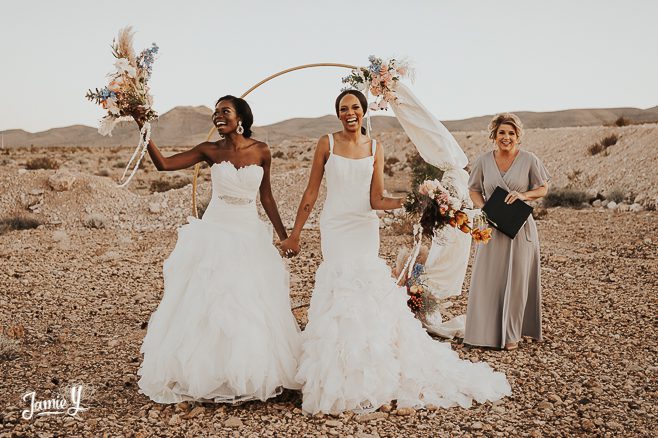 Check out these Las Vegas Elopement Ideas & Locations. Lindsay with P3 Events is moving to Las Vegas from Chicago. She wanted to set up some shoots to showcase different ideas and locations for her new clients.
We started the day with couple Julia & Nate. We wanted to showcase some of the different locations in the downtown area. Since it was mid-day, most of the locations I usually use were not in the best lighting situation. So we had to get creative and head to some different areas.
Downtown has so many great spots, most easily used if you have no guests. We went in front of an old school, the court house (which probably won't let you get married on their front area but we did some photos anyway).
For the second part of the shoot, Lindsay found a great desert area near her friends house. We had some furniture rentals and two beautiful brides for the sunset portion of the day.
Everything came out so beautifully and really helps to showcase some options for non traditional weddings and elopements in las vegas. Lindsay will be in town soon and is ready to start booking elopements and weddings.
Las Vegas Elopement Ideas & Locations
@p3events for Planning & Event Styling
@jamieyphotography for Photography
@megdelacruzhair for Hair
@shadesofbeautylv for Makeup
@peachy_keen_unions for Officiant
@bloomingbellesrentals for Floral
@modernvintagerentalslv for Sofa Rental
@rsvppartyrentals for Ghost Chairs
@brilliantbridal for gowns
@thecrystalcarrington ~ model
@model.moore ~ model