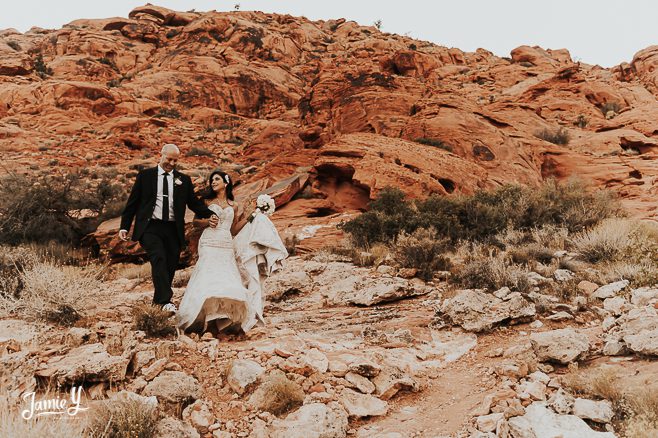 Excited to share today's Las Vegas Adventure Elopement Photography with everyone.  Jon had contacted me a few months prior to this, getting some information and sharing that he would be proposing to Beatriz soon and then was ready to get the elopement all planned.
Their Love Story
Here is their story: "I am an airline captain and one day a feisty little flight attendant walked onto my plane to be my Lead Flight Attendant for the day. Little did i know my life was about to change! Well…after a wait.
We had fun and bantered and at the end of the day, I THOUGHT I made it clear to her I would love to hang out, but this effort was MISSED on her and she promptly ignored me…. even though we flew together again the NEXT day we just had fun and went our separate ways… for a year!!!
But, a little over a year later…. I walked onto another plane and look who was standing there! I said, "Hey! I remember you!" Once again we had fun chatting, including her letting me know she actually was going to be in my Home city of Charlotte, NC, on New Year's Eve. I wasn't about to let this get away AGAIN…so I in very poor form handed her my number in front of all the passengers and made her feel extremely awkward! Unfortunately…she did NOT use that # to call or even text!!! Ridiculous. But…. luckily our paths crossed again a few weeks later and we started texting…. and it was off to the races.
I had never met someone more perfect for me… definitely unique! By the time NYE finally arrived, we had already been dating and flying back and forth from our homes in Charlotte and Ft. Lauderdale for weeks! Fast forward through vacations, trips back and forth, a global pandemic, and a WEIRD 2020 and I took her to a small cabin called "the Dog House" *(Beatriz loves dogs and has 3) and as the sun was setting, I led her down a path to a firepit that I had lined with twinkling white lights, dropped on a knee and asked her to marry me. Rather than waiting for Covid to dictate our plans, we said "Why don't we do this for US and get on with our lives, go out to Las Vegas, have the time of our lives, get married just us and then get some amazing pictures and be together!" So here we are!!! Exciting times!"
Wedding Day
It was an amazing day.  I met up with the newlyweds right after their ceremony at a local chapel.  They had hired a limo filled with props and were ready to have a day full of fun and photos.  We started off downtown, went to a bar for some drinks, checked out the art murals, played with smoke bombs and confetti and had a blast.  Other stops included the Neon Museum and then the desert area up near Red Rock.  We had 4 hours together to travel around for some unforgettable memories.
I had the best time with these two.
XO-Jamie
Contact me here.
Las Vegas Adventure Elopement Photography