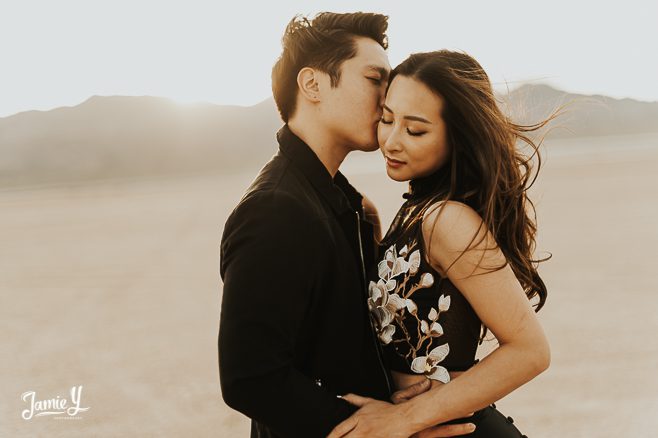 Beyond excited to share this Dry Lake Bed Elopement Las Vegas shoot with everyone. It has been awhile since I blogged. This shoot was the second or third shoot I did since quarantine was somewhat lifted.
Debbie & Joel had plans to get married later this year and we were set up to do their engagement session this June. Unfortunately, because of COVID, they had to change plans. They decided to just get married at a chapel and then use their engagement photo shoot as a post wedding type session. We started off at the Neon Museum for a few photos, since they are Vegas locals they were able to book the quick 15 minute slot.
Afterwards, we drove out to the dry lake bed for a magical session. It was very very windy, so although it made it almost impossible to use smoke bombs, there were some benefits to the wind. Some people were driving around behind us kicking up dust and the wind made it nice and hazy and gave an ethereal look. I like to mention this because people want to recreate shoots like this and it isn't always exactly possible to create the same exact look. We can always drive around and kick up some dirt but conditions are always different. But hey, if it isn't windy you can get more smoke with the smoke bombs.
Debbie really wanted smoke bomb photos so we found a way to get some near the end while sitting on the ground. We used my car to block some of the wind and we were able to keep the smoke down close to us. Kind of hard to breath at times but it looked beautiful.
I am in love with this whole session. Debbie and Joel really brought their A game and it was one of my favorite sessions ever. Enjoy.
Thank you so much for checking out this Dry Lake Bed Elopement Las Vegas. Stay safe out there.
XO-Jamie