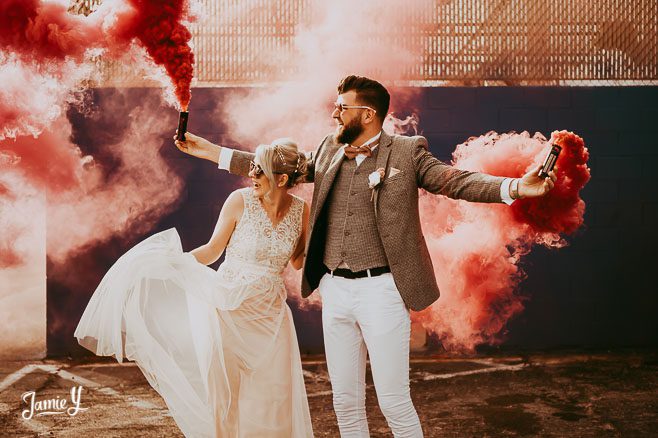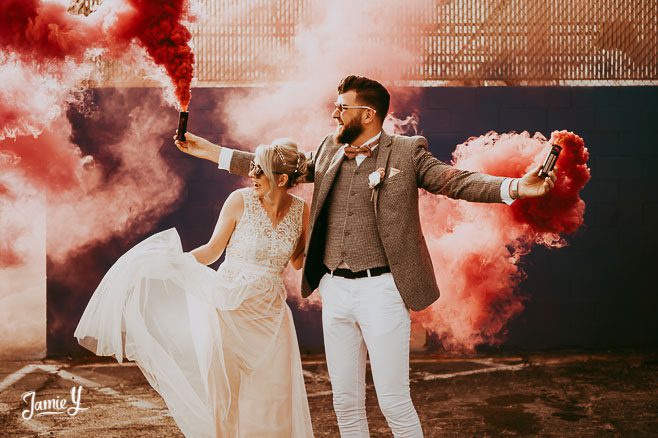 Super excited to share this Colorful Vegas Wedding with everyone today. Leanne first contacted me about her wedding through Instagram. We chatted about all of the details and I knew it was going to be a fun day. Colorful smoke bombs, confetti canons, and more.
The day started with me meeting up with the couple at their hotel room at the Bellagio. They had lots of fun little details and finished up getting ready just before heading out. Jason helped Leanne into her beautiful dress. This dress looked so comfortable and light weight. Lace top and tulle bottom with a nude colored slip underneath. Jason was dressed pretty dapper as well.
After the Bellagio, Leanne & Jason headed to their chapel to say their vows. I met up with them right after in the downtown Freemont East area. Leanne ordered 4 confetti canons, 6 smoke bombs, and some regular confetti. Typically, I have used these props in the desert with nobody around. We had to be a bit creative as to not get into trouble. Everything went pretty smooth and we had lots of fun. In one of the alleys, some girls came out in a slight panic that a fire had started. We reassured them all was fine.
Lastly, we ended at the iconic Neon Museum. We spent 30 minutes in the North Lot finishing up their portraits for the day. Leanne had a custom leather jacket that she painted for some photos at the end.
To see even more from this Colorful Vegas Wedding, check out the slideshow below.
XO-Jamie