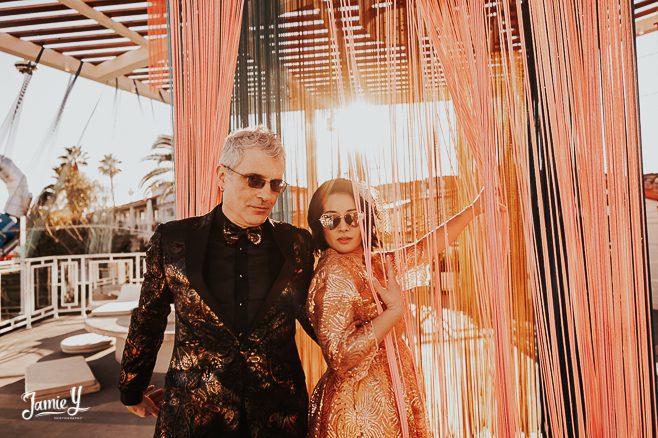 Super stoked to be sharing this Colorful Las Vegas Elopement today. With everything going on in the world right now, it was so great to escape it all by editing this super fun elopement.
Q & Jack headed to vegas from Seattle, just the two of them, for a pretty fun day of wedding fun. They booked 4 hours of coverage so I got to follow them around, ride in the limo, and capture so many portions of the day.
Their Story
Here is their story as told by Q:
" Jack and I met years ago through our ex-spouses. Little did we know how quickly we'd fall for each other, but once we realized the other was also drawn to irreverence and mischief we began the long fall.
We were cautious about how we approached our relationship, both going through a divorce. 10 years, a child, and a house ownership later, we figured it was time to get married and legitimize our spawn.
The proposal was… characteristically weird. Like all things, it didn't follow a "normal" path. Jack proposed to me in our therapist's office during a session. Jack says he knew the proposal–like most of our relationship–was going to be odd so decided to "lean into it". Bonus: we got the session for free.
For the ceremony, it was important to us to do something for US, and a cheesy Vegas wedding was on each of our bucket lists. How often does one get married after all? …two, three…well, not that often. Jack and I have always had the most amount of fun together, and in recent years having a child has meant less time to play and be children together. For our wedding, we opted to leave our daughter at home and luxuriate in kid-free time. "
"The dress was specially made, inspired by 50's fashion, specifically the romper. We wanted it to be fun, and something I would wear again. The designer, Kim, of Kimmi Designs, is eco conscious and specializes in up-cycled fabrics.
Because we're eloping, we didn't invite anybody to the ceremony, not even our daughter, Quorra. It is important to us that she is still there in some way. Because Quorra means "heart" in Italian, both of us will wear heart objects on our wedding day. I'll have heart stud earrings in my 2nd ear piercing; Jack will have Queen of Heart cufflinks.
Our rings were specially made by a Seattle jeweler, Lori of LoLiDe Jewelry, who worked with us to do a rush order. It was really important for us not to go with a "big-box" jeweler, but to instead support a local business with a cool sense of style that spoke to us. https://www.lolide.com/ "
The day was so much fun. I loved how relaxed yet excited they both were and how much love they have for each other. Since they married on leap day, the chapel was so full and there was a bit of a delay. Q loved seeing all the other brides and even though it was just us for most of the day, it added a pretty cool element of togetherness.
To see even more from their Colorful Las Vegas Elopement, check out the slideshow below.
Creative Team:
Hair/Makeup: Bobbie Pin Beauty
Getting Ready Room: Palazzo
Dress: Kimmi Designs
Shoes: Fleuvog
Rings: LoLiDe Jewelry
Chapel: Little White Chapel, Tunnel of Love
XO-Jamie
Colorful Las Vegas Elopement Video