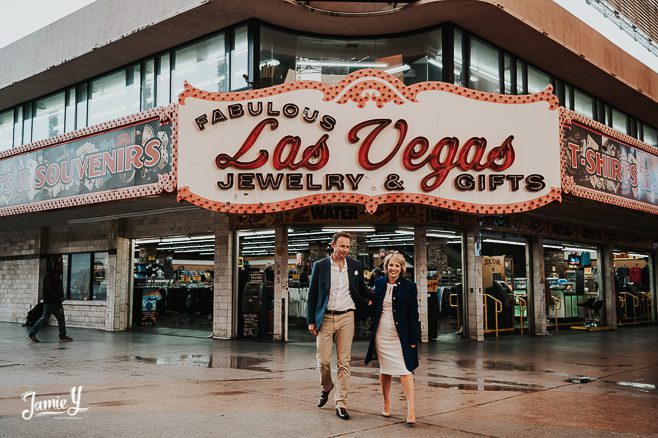 Excited to share this Casual Old School Vegas Elopement today. Anita & Greg came to vegas all the way from New Zealand. They left their kids behind and secretly got married while here.
Their Story
"This year is our 20th Anniversary, actually in November although we have know each other since we were 11yrs old. Greg surprised me at the LA airport with the special question 3 years ago, complete surprise. Its taken us some time to decide how/when and where to get married, and the final decision is its a day for us, to worry only about us. We'll celebrate with our kids, family and friends at home once they get over the surprise.
We've been to Vegas a number of times and love the craziness. So we know a bit of what we don't want (posed photos on a gondola) and a bit about what we do, casual old school Vegas. "
The Elopement Day
Anita, Greg, and I met up in downtown Las Vegas to start. It had actually been raining all day, but the skies opened up right before we started and it didn't rain again during our session. The dark clouds gave a perfect moody vibe and also kept the crowds down quite a bit on Freemont Street.
We walked around and stopped for a cocktail at a bar they had gone to the night before. Captured a great variety and that old school Vegas vibe they wanted.
Lastly, we headed to the Little White Chapel where they took a few shots outside before heading in for their ceremony.
Check out even more from their Casual Old School Vegas Elopement by watching the slideshow below.
XO-Jamie
Hair/Makeup – Amelia C & Co.