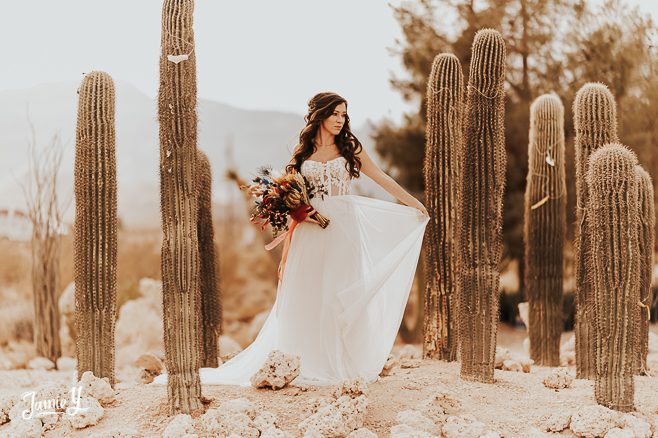 Cactus Joes las vegas wedding
Super pumped to be sharing images from a recent styled shoot showcasing Cactus Joes In Las Vegas as an outdoor wedding venue.  They have recently done some updates and opened up more of the location for weddings and elopements.
Cactus Joes is about 30 minutes from the center of town.  It is a large location right by the mountains with views of Red Rock.  There are various cacti, such as Saguaro, Cholla, and Joshua Trees.  There are also several other beautiful scenic locations that have no cacti.  There is a ranch house that can be rented out to get ready in as well.  The location is surrounded by desert with beautiful views.   Red Rock has hefty permit fees and lots of restrictions for weddings.  At Cactus Joe's you can get a similar look, easier and less costly.
P3 Events has done several styled shoots there.  The shoot I took part in had the theme of imagining yourself here.  The same bride in several looks at several different spots on the property.
I am a huge fan of the location.  It is perfect for elopements and intimate weddings.  Almost all desert locations in and around town require permits that can be costly and difficult to obtain.  Cactus Joe's makes it nice and simple.
Amazing Creative Vendor Team:
Venue: @cactusjoes
Florist: @a_wong_events
Photographer: @jamieyphotography
Videographer: @thecombscreative
Hair & Makeup: @makeupinthe702 
Model: @she.strayed
Gowns: @honey_bridal
Planning & Styling: @p3events
Day of Assistance: @helloalex_lifestyle