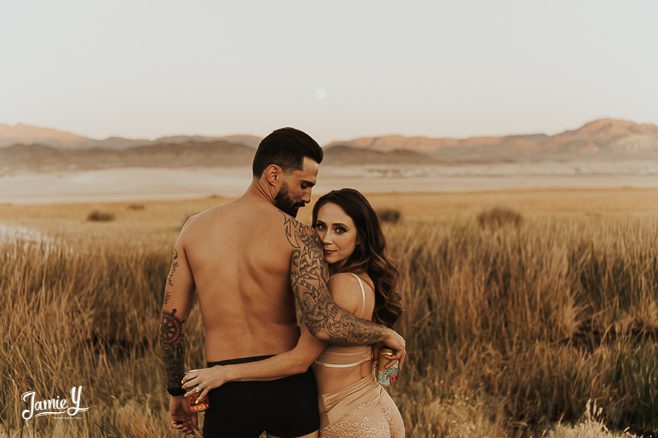 I am so excited to be sharing this adventure elopement Las Vegas styled shoot that I recently did.  I had been dreaming of doing this date ranch and hot springs shoot for awhile.  With the pandemic, it was the prefect timing.  I had extra time to plan and shoot it and the shoot itself is a great option for a couple who wants a fun exciting day with the limitations we have faced.
I worked on this shoot with another photographer, Elizabeth Le Photography.  She is the one who made the gorgeous dress, found us the perfect models that fit the vision I had, among many other things.
A few years ago I visited the China Ranch Date farm with my family and fell in love with the space.  it is a few hours drive from Vegas but looks worlds away.  Acres of palm trees and not many crowds.  I knew this would be a great spot for a shoot.  I also visited the hot springs and knew it had to be a double deal.  I wanted a bride and groom in their (not too revealing) underwear enjoying the hot springs with a veil put in there as well.
Whenever I do a styled shoot I like to incorporate things the couple will actually like as well.  They have a son named Bowie, so I purchased a David bowie lapel pin for him to have instead of flowers.  I had asked him to wear a band shirt under the tux for a more relaxed feel.  He happily surprised us with his David Bowie shirt.  They actually brought their 1 year old son along for the shoot because their babysitter fell through and he was totally fine to sit in his stroller.  So we incorporated him into some of the shots as well.  Chad also likes craft beer so I brought some of that for them to have after the champagne popping.
It was an amazing styled wedding shoot and I am so happy to be able to share it.  I am offering full day elopement packages including these locations.  It is a little over 4 hours round trip driving.  I recommend at least 3 hours of shooting there.  If you would like a wedding day just like this, don't hesitate to reach out here
Thank you to all the amazing Vendors who made this happen.
Hair/Makeup: Makeup in the 702
Tuxedo: Friar Tux
Florals: Amy Wong Events
Macarons: Macaron Warehouse
Donuts: Cafe Lola
Invitations: Artcadia
Shoes: Asos
Crown: LeChatRoses
Dress: Sophia Rose Bridal
Help With Styling: Elizabeth Le Photography
Location: China Ranch Date Farm