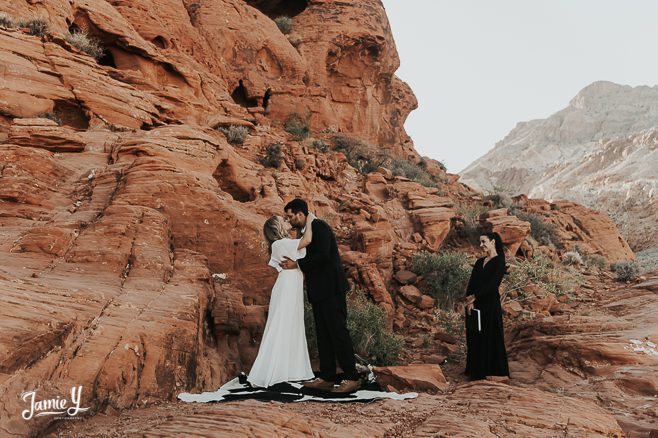 Today's real wedding feature is a Red Rock Canyon All Inclusive Elopement that took place earlier this summer.  Madison & Jackson came to Vegas from Arkansas.
Here is their story: "We met out dancing one night. Jackson and I were both with friends and I asked him to two-step with me! The rest is history. We really wanted this elopement to be personal, meaningful, and just about the two of us."
Red Rock Canyon, near Ash Springs was the perfect intimate location surrounded by natural beauty.  The couple was smart to wear tennis shoes for the hike up to our final location.  Madison is an interior designer and brought a cow print rug to add a little style to the ceremony spot.
It was just us 4 up there, as they said their vows.
We shot some portraits there and heading back down the path, got in our cars and traveled down to Freemont Street.  Popped a bottle of champagne in a parking lot, and grabbed some shots in front of the El Cortez.
Madison told me that she knew she wanted me to photograph her wedding before she was even engaged.  Totally touched my heart.  I was truly honored and hope I did her day the justice it deserves.
Great team of elopement vendors:
Officiant : Berlynn w/ Peachy Keen Unions
Hair/Makeup: Glammed Up Vegas
Coordinator & Permit: Desert Elopement
Floral: Amy Wong Events
Red Rock Canyon All Inclusive Elopement