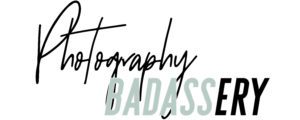 I am so excited to announce details on our Las Vegas Photography Workshop entitled Photography Badassery!!!  Danette from Amberlight Collective and I will be co-hosting this amazing workshop geared towards people in their first 1-2 years of business.  However, you could still get tons of information out of it no matter where you are in your photography journey.
The workshop is going to be held Saturday January 20th in downtown Las Vegas.  We have a full day planned with lots of learning and fun along the way.  The main topics are Brand Building, Workflow, and editing.  Brand building will include content marketing and infusing "you" into your brand.  Workflow will walk you through the moment you upload your images after the shoot until you are ready to deliver to your client.  Editing will be intertwined with this and will go over editing basics and consistency.
Danette and I will each be teaching topics and will share our wealth of knowledge with the attendees.  There are still some specifics that are in the process of being worked out.  However, we are all ready for sign ups and have the major parts of the workshop all set.
Things that we will be doing include: light breakfast and introductions, lunch of course, several hours of learning via a classroom type setting, a 2 hour photo walk including sunset and night time shots, open question and answer, portfolio review, and some sort of alcoholic beverage or drink of your choice at the bar to finish off the night.
We are limiting the class to 16 students so that we have a more intimate feel and everyone will have time to shoot and ask questions.
This workshop is open to all types of photographers.  You are expected to have a basic understanding of how to work your camera for the photo walk.  We will not have time devoted to camera basics but will assist with some lighting techniques and choosing of where to position your subjects etc.
Basic Workshop Details
Date:  Saturday January 20th 2018
Time: 10:30AM-6:30PM (May change a tiny bit but not by much)
Location:  Downtown Las Vegas
Cost:  $375 if paid in one payment.  $400 if split into 2 equal payments.
The workshop is limited to 16 attendees.  To book your seat, you have the option of paying $375 all up front.  Or, you can split it into 2 equal payments of $200 each.  The final payment will be due 3 weeks before the workshop date.  Tickets are non-refundable.  However, you are able to sell or transfer your ticket to another person if you can no longer make it.  We will keep a list of backups and will assist you in finding somebody if possible.
Any questions or if you are ready to sign up, just contact us at photographybadassery@gmail.com
If you know anyone who might be ready to take their work and business up a notch, send them our way.
Website coming soon at www.photographybadassery.com
To ensure that you don't miss out on any info, sign up for the newsletter below.