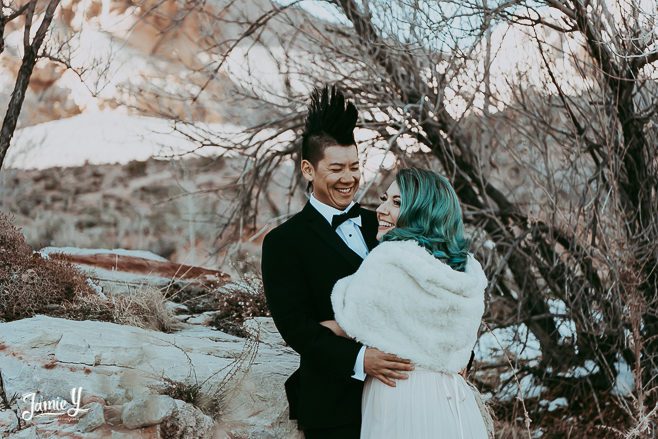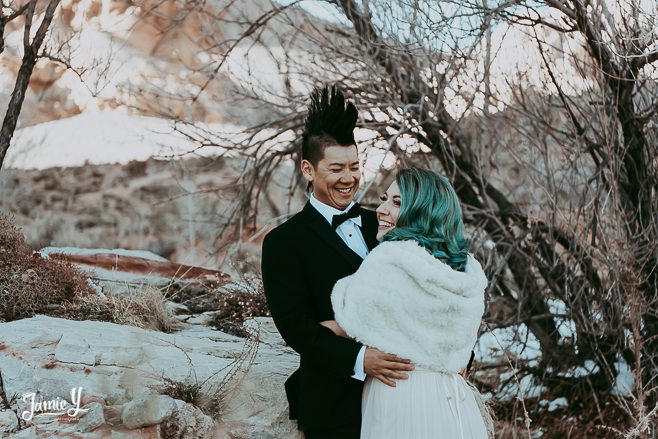 Super pumped to share this Mountain Elopement Las Vegas. Adrienne & Avian live in Mammoth Lakes California. Two days before their Las Vegas destination wedding in the mountains, it actually snowed all over Las Vegas for the first time in 10 years. The day before their wedding, school was actually cancelled.
Thankfully, it didn't stick around too long on the roads and we were all able to still make it to their original location. They chose a spot, for their rouge wedding, close to the Red Mountains on the outskirts of town.
It was my first wedding couple with green hair and a Mohawk and I loved it. Adrienne had henna, and it was my first time photographing that as well. I'm a huge fan. It just looks gorgeous.
As we waited for some of their guests to arrive, we hiked down a bit for some couples photos. There was a little bit of snow on the ground and up in the mountains. Avian is pretty funny, he kept Adrienne either smiling or laughing the whole time.
Once their closest friends and family arrived, the ceremony took place just off the side of a trail. Their friend officiated the wedding and it included a hand fasting element as well as a shot of liquor.
After everything was finished, they headed off in their huge party bus for a night on the town.
To see even more, watch the slideshow below.
XO-Jamie
Mountain Elopement Las Vegas