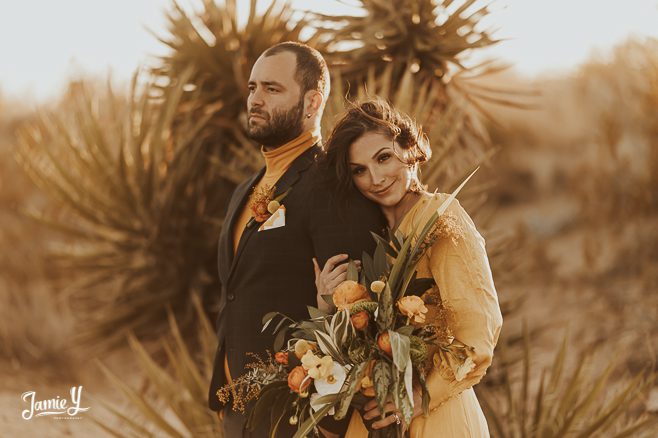 So excited to share this Joshua Tree Wedding Photography session with everyone today.
A while back, I came across a house on Instagram.  This house was being remodeled and decorated with real vintage pieces from the mid century era.  After seeing the home completed, and ready to rent, I really really wanted to go there and do a shoot.  Due to how expensive it was to rent, I couldn't do it alone.  I thought up an idea of having some other photographers or wedding vendors come and stay at the house and everyone pitch in and have some fun shooting.  It ended up being me, another photographer friend, and a wedding planner that I met on Instagram as well as a few models and officiant.  We had the very best time and spent a full day shooting.  We did a few editorial and boudoir things as well, which I will post later on.  This shoot, is the styled wedding.
Alta really did so much work and preparation to make this shoot special.  The house itself is super inspiring and a joy to photograph, but we needed something separate for the actual wedding.  Alta used the house as inspo and set up a really cool beaded curtain backdrop for the ceremony, a gorgeous picnic table setting, and a bar/cake cart.  She also made the bouquet and took care of the styling for the couple.  It came together perfectly.  We learned the hard way that Joshua Tree can be pretty dang windy.  I am sure there are areas you can block the wind, but not at the house we were at.  It caused some tipped over vases and other obstacles, but overall everything still came out amazing.
Thank you so much to all the amazing people who made this shoot a reality.
Planning/Styling/Coordination/Florals: Alta Velasco Events
Invitations: Brown And Co Designs
Makeup: Makeup & Hair By Maty
Officiant: Berlynn With Hell Bent Hitchings
Joshua Tree Wedding Photography