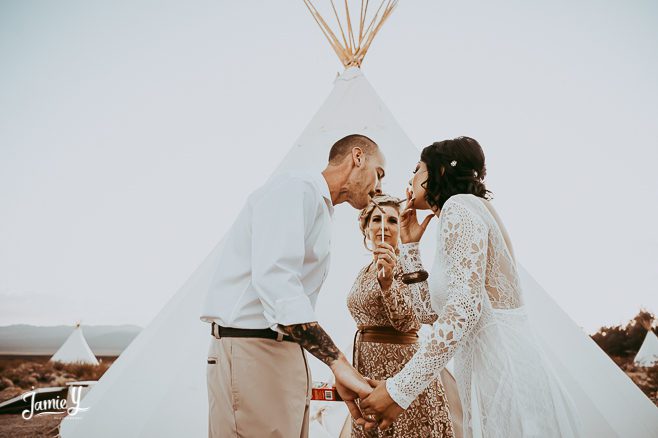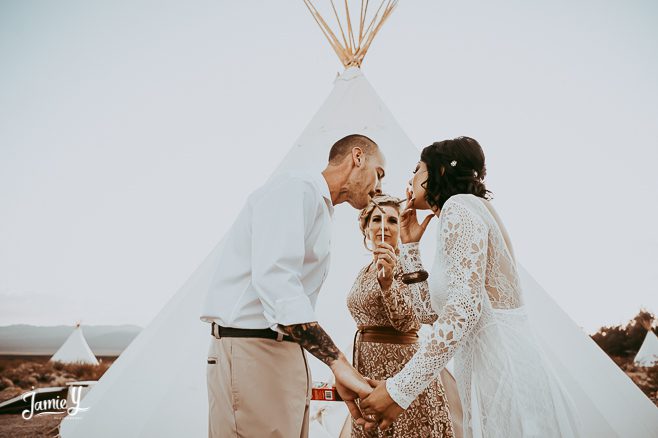 Check out this Cannabis Wedding in Nipton, near Las Vegas.
This is a cannabis, marijuana, weed boho elopement styled shoot. We wanted to showcase this unique location and the great options that make it a perfect wedding or elopement venue close to Las Vegas. Also, it is the only weed friendly venue close to Las Vegas that is currently available.
As discussed in my previous post, I heard about Nipton and fell in love with it. You can view that post here. Basically, if you want to do a cannabis friendly wedding in Las Vegas, choices are very slim. In Nipton, you can smoke freely in their public smoking areas. So if you want a weed wedding, this is your spot. You can rent the entire town out for your wedding, or you can have a small intimate elopement like we have shown here.
Nipton is such a cool town. It is very small and was recently purchased by a cannabis company. They have a general store that sells lottery tickets and cool souvenirs and snacks. They also have a bar/cafe with beer and food. There are several tee-pees on the grounds that they rent out. There are some other accommodations as well as a hotel, named Hotel California of course.
All around the tee-pees, you are surrounded by an 80 acre outdoor art gallery with lots of amazing pieces. Many of the art pieces are from burning man.
The style for the shoot was a picnic setup in front of the teepee with cannabis a plenty. A bar cart had edibles as well as beer for toasting. A ceremony was performed in front of a teepee. We hung out in the teepee afterwards for some smoking. Unfortunately the teepee got a little too smokey with our fog machine experiment. Fire alarms were going off, it was a bit crazy. So it was a bit too foggy to shoot much inside.
The couple started off with an edible each before the ceremony. During the ceremony there was a joint unity lighting ceremony where the couple both lit their joints from the help of the officiant. Little nuggets of marijuana were placed among the edibles and the bouquet even had some marijuana leaves.
Magical Nipton is like a little jewel in the middle of the desert. Surrounded by art, amazing sunsets, joshua trees, and you can even see the milky way at night.
Lastly, if you are looking for a cool boho location near to Vegas, whether you plan to use cannabis or not, Nipton is definitely worth checking out. Contact me here to get more info.
There are a lot of photos. I could not narrow it down any further. Enjoy!
If you are interested in having your wedding or elopement in Nipton, contact me here.
The amazing vendors that made this all come to life.
Planner/Styling: Desert Elopements & Emily Reno Events
Officiant: Peachy Keen Unions
Hair/Makeup: Makeup In The 702
Florals: Alexander Wong Events
Location: Magical Nipton
Cannabis Wedding Nipton Las Vegas
Check out our other shoot at Nipton here.