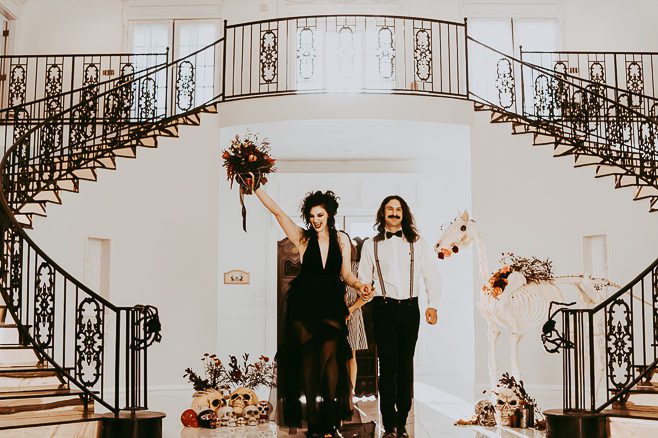 So beyond excited to share this BeetleJuice Wedding Inspiration photo shoot with everyone today.
Awhile back, my friend Carrie (Carrie Pollard Photography) told me about a Beetlejuice styled shoot she wanted to do. She said she would be happy to collaborate with me on it and I was thrilled.
For those of you that don't know what a styled shoot or inspiration shoot is. It is basically just a photo shoot where several vendors collaborate together to create something just for fun. Not only is it fun, but we get some great photos to share and help inspire others.
Carrie and I put a whole lot of work into this and also had some amazing help from the vendors and models.
We both scoured all of the local stores looking for the perfect decor that would work. Thankfully Halloween was coming soon so we were able to capitalize on that. Once Halloween products hit the shelf, we were out there looking. We were both even able to find a bunch of decor with beetles and other things perfect for the shoot.
The shoot was held at the fabulous Mansion 54. This location was perfect with it's neutral color palate and winding staircase. Carrie and I arrived and set up all of the things that we brought. The ceremony space was set up with various skulls and a huge horse skeleton and florals galore.
Shayanne, with Bleu Moon Bakery was our officiant in her perfectly beetle juice inspired striped dress. We put a mask on her and she had the handbook for the deceased book.
The sweetheart table was filled with skulls, bugs, and the most perfect skeleton plates you have ever seen.
We created two signature drinks for the shoot with a whole table set up to showcase them. We also had the best spooky cake and popcorn favors in striped boxes and glitter and fake bugs on top.
Our models, Joe & Zelda were so helpful and perfect for this shoot.
Could not have done it without these amazing vendors.
Creative Direction & Styling: Myself and Carrie Pollard Photography
Florals: Alexander Wong Events
Hair/Makeup: Makeup in the 702
Furniture Rentals: Dogwood Rentals
Venue: Mansion 54
Cake & Popcorn: Bleu Moon Bakery
Models: Shayanne, Joe, and Zelda
XO-Jamie