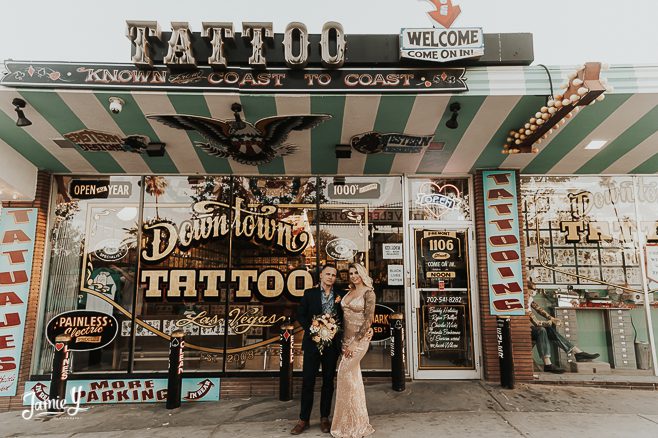 Thrilled to be sharing this Vegas Elopement With Tattoos from Tessa & Ethan's big day.
These two best friends eloped in Vegas this July. They wanted it to be easy and stress free so they chose one of my elopement packages with a planner. The lovely Paulina Clute helped plan the perfect day for these two so they could do exactly what they wanted for their wedding day.
We started off at their room at the Cosmo on the strip. Tessa was already ready when I arrived, but we set up a first look on the patio so that Ethan could have a special moment to see his beautiful bride. After a few bites of desert and some white claw, we headed downstairs. Tessa surprised Ethan with a pink Cadillac to drive them to the ceremony location. He had no idea and you could see the pure joy on his face.
We all headed down to a mural in the downtown area for their ceremony. The ceremony was so special and had me and the girls almost in tears. We took some photos in the area afterwards. Lastly we headed to Downtown Tattoo. Tessa & Ethan both got tattoos on their wedding ring fingers to finish up the day. I am not sure where they went afterwards, but I know they had a good time. These two were so much fun and I loved to witness their love.
The talented team that helped make it all happen.
Planner: Paulina Clute Events
Hair/Makeup: Amelia C & Co.
Officiant: Peachy Keen Unions
Check out even more on the slideshow below.
XO-Jamie
Vegas Elopement With Tattoos