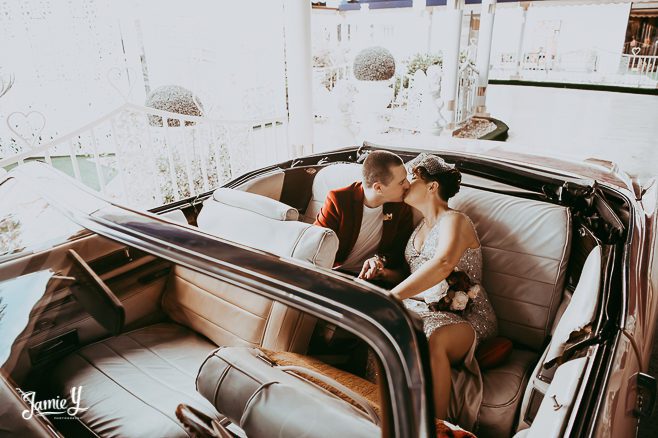 Thrilled to be sharing Amy & Tyrone's Tunnel of Love Wedding Vegas. Editing this wedding reminds me of my favorite things about weddings. The pure joy and love and huge smiles on the faces of two people who love the crap out of each other. Truly, my favorite thing.
Amy's smile kept making me smile the whole time I was editing.
Their Story
" We have never been a traditional couple, getting engaged in McDonald's! We knew we always wanted to elope, the 'Big Day' just isn't for us. Plus this way we get to spend our day just together experiencing Vegas and a great holiday together. Have been together 11 years. We are each others best friends; sharing a lot of the same interests and hobbies. "
The Wedding Day
We spent two hours together to capture all of these photos. The day started at the Little White chapel. They chose the tunnel of love for their ceremony, and for it to take place inside the pink Cadillac. They sat in the back seat, and the officiant was just outside the car.
After the ceremony, we headed down to Freemont Street. They had booked the neon museum for a 30 minute shoot at the end of the day. So we walked around and shot some photos in the area surrounding Freemont downtown.
Finally, we ended in the north lot of the neon museum.
To see even more, watch the slideshow below.
XO-Jamie
Creative Team:
Hair/Makeup: Amelia C & Co
Chapel: The Little White Chapel
Photo Location: Neon Museum North Lot
Florals: Sea Holly Flowers
Dress: Forever New
Tunnel of Love Wedding Vegas