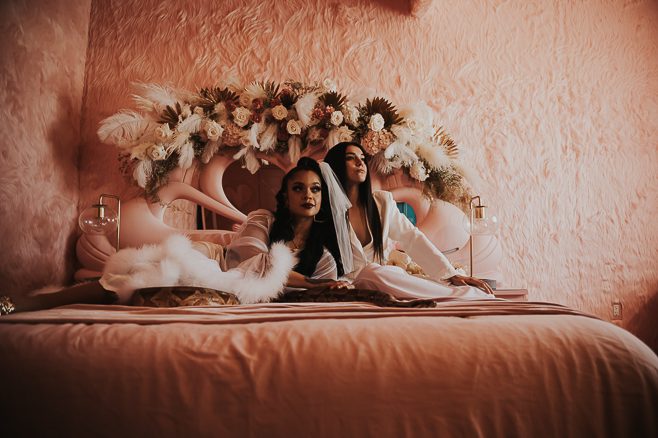 About a month ago, I had the pleasure of heading out to Palm Springs to shoot some Palm Springs Elopement Photography.  I have been fan girling over the content that Ride Or Die retreats puts on.  Totally my type of clients that I love to work with and I have never been to Palm Springs.  I headed out there during a small break in a crazy busy Spring wedding season and I am so glad that I did.
There were several shoots that took place over the two days I was there and I will be blogging them all.  The first one I am sharing is of the badass couple Kenzie & P.
The elopement shoot took place at a really cool, styled airbnb in Palm Springs.  The first room that the photos were taken was a fully pink fur room.  The walls, ceiling, everything was covered in pink.  Kenzie & P were styled impecabily and brought their actual pet snake for the shoot.
I photographed them a little bit in the room before heading outside near the pool.
Loved the energy from these two and everything about the shoot.  If it is just the two of you, having your elopement at a rad airbnb is a great idea.
The amazing vendor team:
AIRBNB – COUPLE
retreat: @rideordieretreats
floral + event design: @flowerdisco_
lead photographers: @itsmelrey @rachelartimephoto
styling: @natalieejogray
models: @kenziemaack @djpnasty_
hair/makeup: @radical.ritual
veils: @janerhyanthecollection
stationary: @handsomeloveco
jewelry: @threearrowsboutique
officiant: @ladylovebandit
Palm Springs Elopement Photography