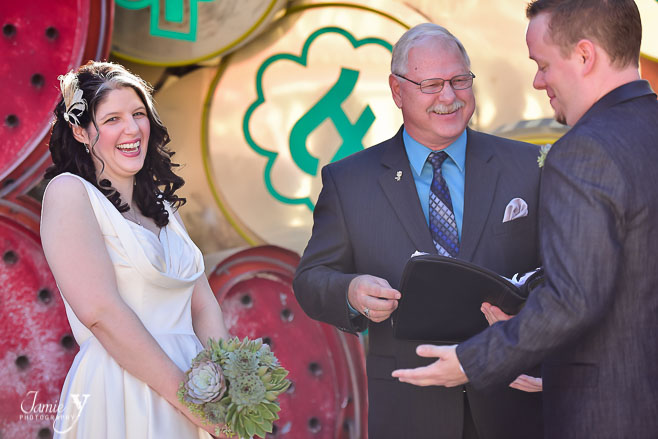 You may remember Brent & Leigh from their engagement session I posted a few days ago here.  Well today I am thrilled to share their fabulous Las Vegas wedding.  They had their ceremony in the North lot of the famous Neon Boneyard Museum.  The ceremony was just them and a few of their closest friends.  It is an amazing location for a small ceremony, you are surrounded by all the old Vegas neon that is so unique to this location.  During the ceremony, two of their closest friends did readings from special books.  In their story below, you will see how important books play into their lives.  During the vows, Leigh was laughing and Brent could not figure out what was going on.  She finally had to explain that an ice cream truck was playing and that was all she could hear.  Everyone had a good laugh and then the ceremony went on.  I am sure the ice cream man's song will have a special place in their heart from now on.  After the ceremony we took some portraits on the grounds of the museum and then headed off to the arts district for some more alternative urban backdrops for their photos.  They really like the contrast of grungy non traditional backgrounds, with them in their beautiful wedding day attire. We had a great time before they headed off for a dinner reception with friends.
Brent is from Chicago and Leigh is from New Jersey.  They were originaly a long distance couple.  They are self proclaimed book nerds which is how they met.  Their romance began on a website for book lovers called LibraryThing.com  They were both hanging out on the message board for a group who love finely bound books and they caught each other's eye.  Private messages on LibraryThing quickly turned to emails, google chats, and phone calls.  A few months later, Leigh flew to Chicago so they could meet in person and the rest is history.
They are a quirky couple who love to sit on the couch togther and read their respective books.  They love travel, great/classic cinema, and trying different foods.  They love vintage things and history, which is half the inspiration behind this wedding.  The other half is that they appreciate art, funky architecture, and neat graphic design.  They love to experience new and interesting things.
It was such an honor to meet this fantastic couple and have a part in their amazing wedding day.  I wish you both all of the best.
To see even more from their special day, watch the video below.
XO-Jamie
Brent & Leigh from JamieY Photography on Vimeo.