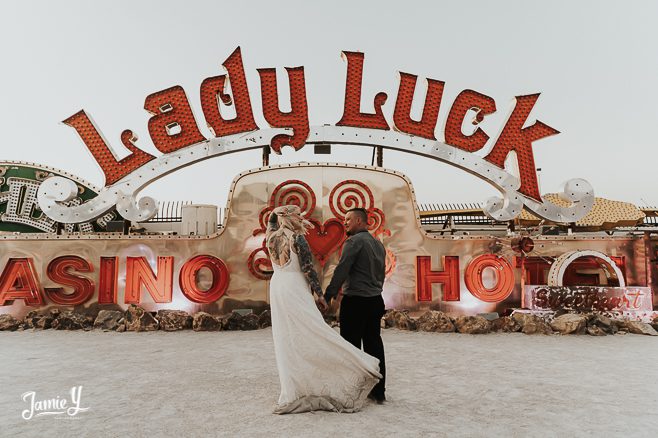 Loved this Neon Boneyard Wedding of Pia & Tony.
Here is their story:
"Pia moved to Milwaukee in the fall to pursue her dream job at Harley-Davidson Motor Company. Once spring came around she signed up for the Riding Academy through a popular local dealership to get her motorcycle license & buy her first bike! There she was greeted by the Sales girl, who quickly introduced her to Tony to talk about customizing her new bike!
After being in & out of the dealership a couple times, the Sales girl invited Pia out to a bar gathering for a chance to meet some new people! This was totally outside of Pia's comfort zone (not being much of a go out to the bars person) but she decided to go for the sake of making friends, just having moved there. Little did Pia know, this was a total set-up for Tony to get a chance to talk to her more. That night they chatted the night away & Tony asked for Pia's number at the end of the night. The next weekend they had their first date on the calendar (April 13th – which is why they chose that date as their wedding date)!
Tony picked Pia up on his bike that Saturday morning and took her to do all the clique Milwaukee things – starting with Bloody Mary's in the Third Ward, followed by walking the nature trails at Seven Bridges to cheese tasting at the Mars Cheese Castle! They spent 12 hours together that day and never stopped hanging out from there.
Since then, they've traveled to Pia's hometown in Germany together & took the train to Oktoberfest! They moved in together, with their 3 dogs Wesson, Chopper & Opie. They vacationed in Mexico together, and went on a 10 day / 9 state motorcycle trip together where Tony proposed on the Folly Beach boardwalk. They spent the last 2 years falling in love to Tyler Childers songs & their favorite pastime is going on motorcycle adventures together every chance they get!"
I seriously loved meeting them in person finally after talking to Pia online.  She is the sweetest most beautiful bride.  We had a great time in the Neon Museum even with all the crazy wind.  Afterwards, we went down the street a bit for Tony to have a post wedding smoke.
oh and by the way, Pia, I love your laugh =)
Check out even more from their day by watching the slideshow below.
XO-Jamie
Neon Boneyard Wedding