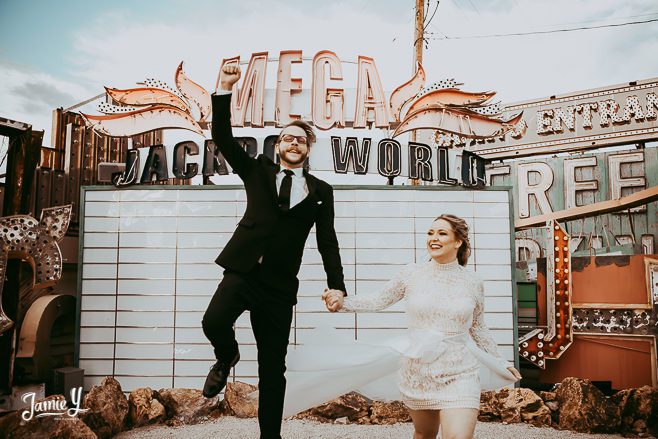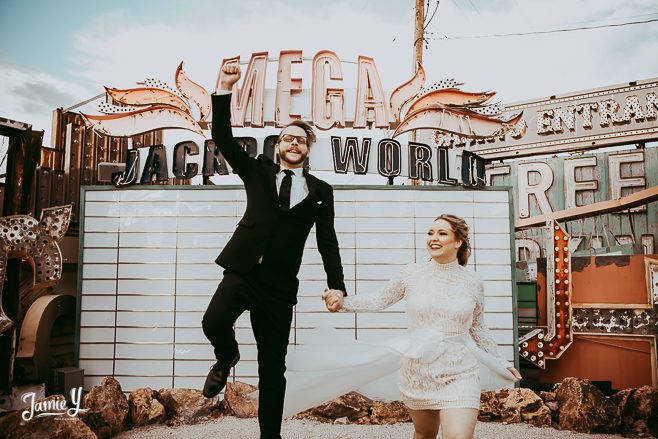 Krista & Tradd came to Vegas for their destination wedding from Texas. Their wedding ceremony was held at one of the MGM Terrace Suites. Close friends and family watched the ceremony and enjoyed the views from the balcony.
Here is their story as told by the bride:
" Tradd and I met on a blind date I had with his friend at Tradd's tiny little bachelor pad in Stillwater, Oklahoma (we both went to OSU). It didn't work out with his friend, but there was a crazy mutual spark between Tradd and I (even though he pointedly ignored me when we met. Ha!) and we ended up reconnecting a few days later.
It happened to be finals week at a school I had already decided to transfer from at the end of the semester, so not the best time to meet a guy that had deep roots there, but we jumped nevertheless and truly fell hard. I went home to Amarillo the next week but traveled back to Stillwater several times that summer to see Tradd, with him coming to see me too, and meeting my family and friends.
Long distance was tough. But we stuck it out for 2 years (!!!) before the stars aligned and he was able to pick up from the place he'd always lived (A real Sooner, born and bred) and move to Amarillo to live with me. Soon afterwards we acquired a live in grandma (Tradd's, who I began taking care of full time), her two dogs and three stray cats. We love them all endlessly.
We've always had a fun, playful relationship built on a foundation of deep love and trust. We truly feel like soulmates and like the universe knew we needed to meet, it's the only way we can explain all the synchronisities that lead us to each other against a lot of odds. We've been engaged since October 2016, when he proposed in front of the fire at my family's cabin in New Mexico. Just the two of us, no cameras, and it was just perfect.
We feel like we've been married for years, but we're excited to make it official and celebrate with our friends and family, and get some beautiful pictures that we can look back on with our grandkids someday! "
Their day was truly special. Krista was such a beautiful bride and just exudes confidence in all of her photos. Tradd was in awe of her beauty all day and made sure to let her know multiple times. Such an amazing day with these two.
To see even more from their MGM Terrace Suite Wedding watch the slideshow below.
Vendors:
Hair/Makeup: Sin City Makeup
Flowers: DIY by bride
Dress: Vintage
Shoes: Randall Loeffler
Cake: Peridot Sweets
XO-Jamie