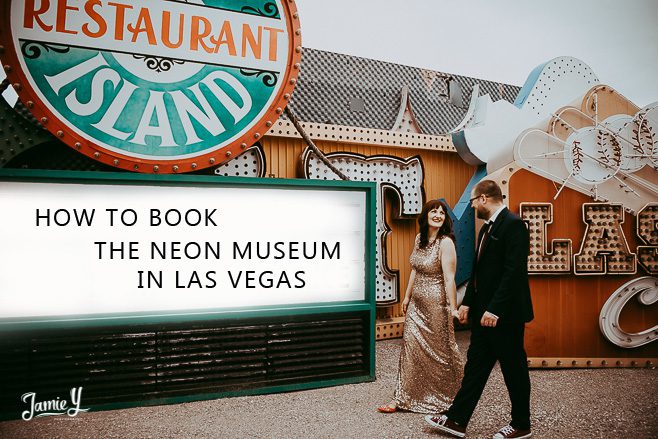 How Do I Book Neon Museum Wedding? You may have noticed that I photograph weddings and other types of photo shoots at the Neon Museum quite often.  I receive quite a few inquiries for weddings or sessions there and am almost always asked how to go about booking it. So, I thought I would help share that information by explaining the process here.
First, a little about the museum.  The Neon Museum is a really cool museum that houses quite a collection of Neon from Las Vegas's history.  There are pieces from way way back in the day alongside other pieces that are not quite so old.
It has grown and changed in so many ways since it has been around.  I remember my first visit there 10 years ago and it was inside a totally different building and the grounds were unorganized and filled with broken glass.  In recent years it has quite an upgrade and continues to add more space and improvements to the grounds.
As of this blog post, there are 3 lots with signs, there is an office lobby, as well as an amazing gift shop.  The main lot is the largest lot and houses the most signs.  The North lot is the 2nd largest and is booked equally as much as the main lot.  The last lot is the newest and it is called The Boulevard gallery.
The Neon Museum allows booking of photo shoots, weddings and events.  Different lots have different options for time and space.  You can book photo shoots for 30 or 60 minute sessions.  Weddings can be booked as ceremony only or as a full ceremony and reception site.  They have lots of options to fit almost any desire you have.  For larger events and/or weddings, it is necessary for you to discuss everything with them directly for pricing and options.  For smaller elopements or photo shoots, it is pretty straight forward.
Photo shoots can be booked for 30 minutes or 60.  Ceremonies are allowed 30 minutes total, including the ceremony and any portraits you can fit in.  They do allow you to add on another 30 minutes to the time for more portraits afterwards.  I believe that prices for photo shoots at the time of this blog post start at $250 for 30 minutes.
So, if you are asking, How Do I Book Neon Museum Wedding Or Photo shoot?  The answer is directly through them via their website.  The museum likes to book directly with the person(s)  that are being photographed.  They have a very simple contact form on their website to inquire about and start the booking process.  The booking inquiry form can be visited here.  You will communicate with them directly and also pay the deposit to hold your date through them.
The first and most important question you should be asking is if your date is available.  This museum is a working museum and they do have tours throughout the day.  Tickets are sold a certain amount of time in advance for these tours, so last minute bookings are not always possible.
Typically, you will have the lot to yourself for a photo shoot.  However, there are times when you will be in the lot with a tour for a small photo shoot.  This occurs at times in the main lot, you will be restricted to one half of the lot and then switch when the tour is ready.
Below are a few photos from weddings and sessions that took place at the Neon Museum.  Under the photo is mention of the specific lot those signs are in.  Also you will find a few links to examples of weddings at the museum at the end.
For further information, you can reach the Neon Museum's website by clicking here.
Check out these previous blog posts to see full sessions and weddings at the Neon Museum.
30 Minute Main Lot Wedding Couple
30 Minute North Lot Wedding Couple
Full Wedding & Reception In Main Lot
30 Minute Session In Boulevard Lot
If you have any questions at all about the Neon Museum, I would be more than happy to answer whatever I can.  Just send me an email or comment below.
XO-Jamie
How Do I Book Neon Museum Wedding Or Photoshoot