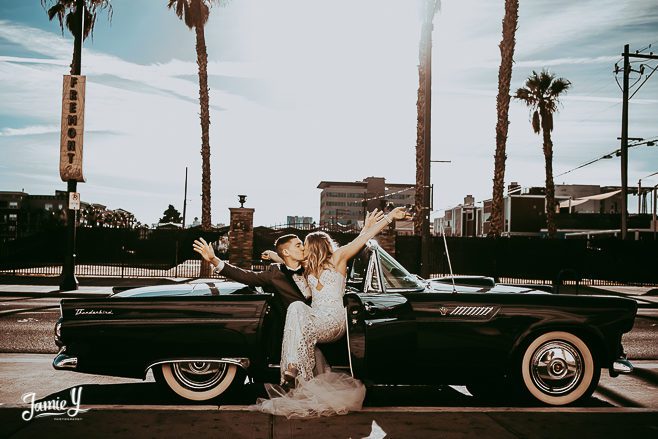 Today's Badass Downtown Vegas Elopement is from Tanya & Robert's wedding day.
There was so much I loved about this wedding! This blended family of 4 all got ready together in their hotel room. Tanya & Robert helped each other get dressed as well as the finishing touches on the kids.
Their ceremony was held at Graceland Chapel so I met up with them right after to get a few more shots with all of the guests and the kids before heading downtown.
Robert is really into cars, so they rented a vintage Thunderbird to use for their photo shoot. OMG this car was amazing. Paired with this awesome couple and their fantastic style (I mean look at her dress). It was all just a match made in heaven.
Here is their story as told by them:
" Tanya's Story: We met on Tinder, Robbie calls me his Tinderella! Haha Our wedding day will be our 4 year anniversary since the day we first met. There's a bit of a Joker & Harley Quinn theme to the wedding because we feel like our relationship has a lot of similarities. When we first met I was the 'stay at home and study, make sure you get a good education, don't do drugs, don't do anything naughty, non-confrontational, wants everyone to like me' type of person…. And then Robbie came along…. This crazy 'Don't give a sh*t, super confrontational, Army, stay out drinking until 5am, get into fights' type of guy. There was just something so different about him. He's that person that when he walks into a room everyone notices. I knew he was the one. Ever since we met it's just been this crazy roller-coaster of life. Bringing our 2 little families together and adding on a fur baby. Me encouraging Robbie to go to university so that he was able to realize how incredibly smart he is, and Robbie encouraging me to venture out of my comfort zone a bit more. The best thing about this is that we are both able to pass on these different qualities to our kids (Jackson & Lilly) so that they get the best of both worlds.
Robbie's Story: The first night I met Tanya she almost cancelled our date because she thought I had changed my mind about meeting her when I suggested doing something different from the walk we had planned as it had begun to rain. It was at that moment I saw a woman who was sexy, tough and independent and knew what she wanted. I was fascinated and wanted more! When our relationship began, I had very little ambition in life. I was happy coasting and didn't think I would achieve much. Since being together, my whole entire world has erupted with change that has made me a completely different person for the better. I owe everything I have to Tanya and can't wait to experience life with her. She means the world to me and I truly believe she is my soulmate. I am the luckiest man on earth because I'm in love with my best friend and I get to spend so much time with her. With Jackson, Lilly and now Zeus, we have formed an amazing crazy family which I love spending every second of with. As a family we charge through life getting as much out of every second of it as we can. Lilly absolutely adores Tanya and I am so thankful to be able to have a part in a young boy so amazing such as Jackson. It will be so rewarding to see what great people our children turn into.
Getting married and life together: When we first got engaged we started looking around at wedding venues in Brisbane, but after looking for a while we just realized that it wasn't for us. We needed something different, something adventurous, something a little bit crazy …. So Vegas it was! We're both so excited to be able to start this new chapter of our lives with such a bang, and to be able to have our 2 wonderful, amazing, gorgeous children there to experience it with us. Everyday we are together is amazing and our life seems to only get better as time goes on. We can't wait to see what our life journey together brings us. Whether it be buying a house, living in New York, babysitting our grand kids or simply growing old together, we will cherish every moment of it.
So now that you have a taste of how amazing this family is, enjoy their photos!
To see even more, watch the slideshow below.
XO-Jamie
Badass Downtown Vegas Elopement